HOME
* FINANCING
OPTIONS *
ECLIPSE LASER
MEASUREMENT
SYSTEM
A R C WELDERS AND DENT PULLERS
G-TRONIX COMPUTERIZED MEASURING SYSTEM

Welcome to the DUZ MOR home page. As you maneuver through the pages keep in mind that each of the machines that you will see was the result of our efforts to build the most user friendly and cost effective collision repair systems on the planet earth.

Throughout our 27 years, we have succeeded by listening to our customers needs and by striving to provide the best possible solutions. Our cage design was conceived in 1980 and though we have other models, it is, without a doubt, still the Most Efficient and User Friendly Machine Ever Built.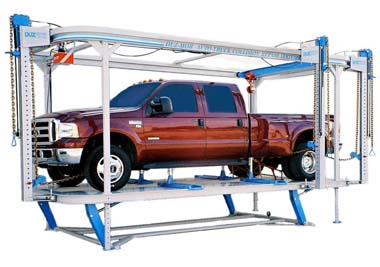 Compare us to the competition and we think you'll agree!
We're looking forward to hearing from you!