HOME
* FINANCING
OPTIONS *
ECLIPSE LASER
MEASUREMENT
SYSTEM
A R C WELDERS AND DENT PULLERS
G-TRONIX COMPUTERIZED MEASURING SYSTEM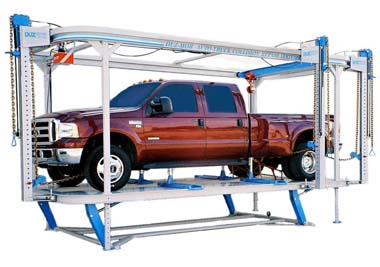 The 4th Generation of the Famous Cage
Design
The Longer/Wider Magnum 360 is our newest cage design as well as our most popular ever. It incorporates all of the features of previous models and a many more. Itís has the stance that allows you to work on any sized vehicle from the smallest unibody car to the crew cab trucks and SUVís.
Standard Features

21ft 4in x 9ft 6in bed dimension
Exclusive 3-dimensional pulling
Patented 10 position vertical lift. from 7in to 35in above floor
Easy floor-level loading
Full under-car access
1 ton over-head hoist
10 ton electric hydraulic pump
8 way adjustable unibody anchors
Drive-over anchor bases with easy slide out anchors
Unibody, truck and full frame anchors standard equipment
Unlimited down pulls (center opening or on bed surface)
8 or 9ft interior height
Available with 2, 3 or 4 repositionable towers
Easyglide steel to steel wheel mounted towers (no binding)
30 pull height positions (9ft tower) from 2 to 7ft 6in above bed
1/2in pull chains
The cage has long been considered by many to be the only true production machine on the market! Also proven to be an excellent sales tool, why limit yourself ? Itís loaded with profit making features that will boost your bottom line without killing yourself!